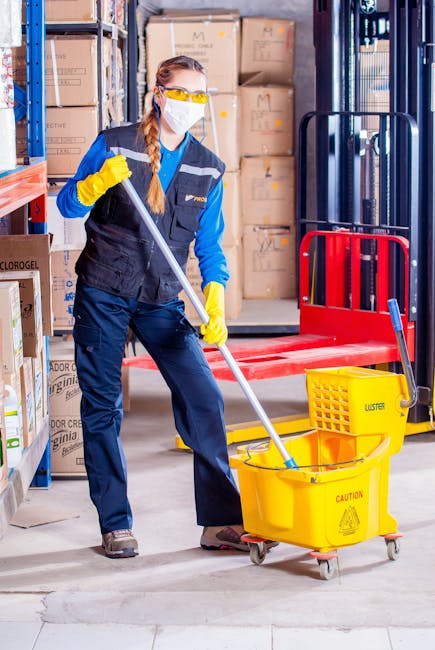 Originally Posted On: http://www.kake.com/story/41109938/how-to-start-your-own-cleaning-business-in-6-easy-steps
Starting a cleaning business is a great way to earn money.
Many business owners go into the cleaning industry with the mindset of making a quick buck, but they often forget to prepare. Without preparation, your business could fail and you'll lose out on a lot of money.
Starting a cleaning business is quite simple and you'll be able to profit greatly from it. There are several steps you can take to make the process easier and ensure that you receive as much business as possible.
Read on to learn how to start your own cleaning business and succeed.
1. Decide What You Want to Do
If you want to know how to start a cleaning business, you'll first need to decide what kind of cleaning you want to do. When it comes to cleaning, you can choose between cleaning homes and businesses.
Both of them come with different challenges, and they both provide different benefits. Choosing one will let you better prepare yourself when you start investing in products and employees.
Businesses
Most businesses operate during the same hours, so cleaning them will allow you to work during the same hours each day. Business buildings are also larger, allowing you to earn more money.
When it comes to cleaning businesses, you'll have to invest in more manpower to cover large areas. Depending on the building, you'll also have to use a variety of equipment to get the job done.
Many buildings have a mixture of hard and carpeted floors, requiring you to bring something like a Hydro Force to clean both surfaces.
Homes
Every homeowner is different in terms of work hours and availability. When you clean homes, you'll most likely be working different hours each day. Unless you enforce personal availability hours, this can be a problem when it comes to having employees work.
However, the various hours are good for some cleaning businesses. If you have a set of employees that all want to work different shifts, you'll be able to take on any job.
Cleaning homes also doesn't require as much equipment as a business does. In many cases, you can get away with using the same products that the homeowner does so you don't risk damaging anything.
2. Buy Insurance
Insurance is very important when starting a cleaning business because you can't risk losing more many. Most people won't hire a cleaning company that doesn't have it because they don't want to replace their things if the company damages them.
Most insurance policies will cover both damages and theft, further protecting you and your clients. You should also get warranties on your equipment so you can replace them if they ever malfunction.
3. Invest in Equipment and Supplies
After you've decided what market you want to enter, you can start buying the equipment and supplies to support your choice. Start by buying standard supplies like bottles, rags, mops, brooms, and a ladder.
If you buy equipment like steam cleaners and pressure washers, you'll be able to offer more services. Pressure washers are regularly used in large buildings, but many homeowners like having their driveways pressure washed, as well.
4. Consider Buying an Office
Having a home base for your operations is never a bad idea. You'll have a place that you can store your equipment, schedule with clients, and rent out equipment if you'd like.
This will also give employees a place to go whenever they have downtime during the day. Rather than waiting in the company van for the next call, you can have them do work at the office.
5. Advertise on Social Media
Social media is necessary if you'd like to succeed as a business. There are many things that you can do on it, letting you choose how you want to display yourself.
Since you're starting a cleaning business, you'll be able to reach out to people and spread your name. Almost half of the world uses it, so you have a variety of audiences that you can target.
When you make content that people like seeing, they'll follow you so they can see more. As people share your posts, others will see your company's name and get interested.
You'll be able to pull in more customers and build a name without spending any money. On social media, you can go as far as choosing demographics when you're advertising.
Rather than placing a local ad and hoping someone sees it, you can target specific age ranges, occupations, and locations for your ads to be displayed to people that fit those categories.
6. Use a Website
Building a website is also necessary for you to succeed because it lets you sell your product to consumers via the internet. It's a place where customers can see more info about your business, contact you, and schedule cleanings.
When you build a site, you should incorporate a blog about cleaning to give customers more info about the industry. You'll earn the trust of customers because they'll be assured that you know what you're talking about.
Offering free advice will also earn the trust of customers because they'll know that you're willing to help anyone. They'll also think that you offer great services if you're already providing free information to others.
You Know How to Start Your Own Cleaning Business, So Start One!
Many people ask how to start your own cleaning business, but they're not willing to take the steps to ensure that they succeed. If you follow this advice, starting a cleaning business will be easy and you'll find quick success.
You don't have to spend a lot of time and money, you just need to think about what you want to do and start preparing. We encourage you to go out there and start your own cleaning business to start earning easy money today.
Feel free to browse our online business section to learn more about how businesses benefit from using the internet.
Information contained on this page is provided by an independent third-party content provider. Frankly and this Site make no warranties or representations in connection therewith. If you are affiliated with this page and would like it removed please contact pressreleases@franklymedia.com